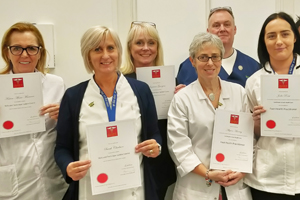 Membership of the College of Foot Health provides Foot Health Practitioners a community of support and continuing professional development.
Members are invited to join their peers through our online members forum, nationwide branches, CPD webinars and various events held annually.
All College of Foot Health members can have a free listing on our "find a practitioner" page of our website, receive our quarterly journal and access to our confidential advice service.
Click for a full list membership benefits.
New membership application
Application for membership of the College of Foot Health is open to Foot Health Practitioners who can demonstrate a level of recognised training, practice and ethics that meets the high standards required. 
Members of the College are required to carry comprehensive professional indemnity insurance equivalent to the Institute's group policy and we do recommend that members of the College take advantage of the excellent professional indemnity insurance that has been specially negotiated by the Institute of Chiropodists and Podiatrists on their behalf and also undertake annual continuing professional development as well as have current first / emergency aid training.
The grant of membership is designed to clearly announce the professional status of the Foot Health Practitioner who has gained it, demonstrate their recognition by a respected podiatry organisation and carries with it the right to use the post nominal letters MCFH.
How to apply
You will need to fill out our application form – (this is a fillable pdf)
Then print off, complete and send in two written referee statements.

Terms and Conditions of membership
Membership of the College of Foot Health is granted at the absolute discretion of the Membership Committee.
Membership is not an automatic right, it is a benefit for members who adhere to our reasonable rules and treat other members, staff and partners with respect.
We may, in the event of misuse of membership, using reasonable discretion, decide to suspend or terminate your membership at any time. Failure to pay membership fees is not the only reason to terminate membership, conduct and misuse of membership can also lead to that result, such as, but is not limited to, behaviour which is troublesome or shows lack of respect towards fellow members, staff, or partners; criminal actions; or actions which are generally perceived to be immoral, unethical or contrary to the College's membership rules.
In the event of an application being declined or membership being terminated no correspondence will be entered into.