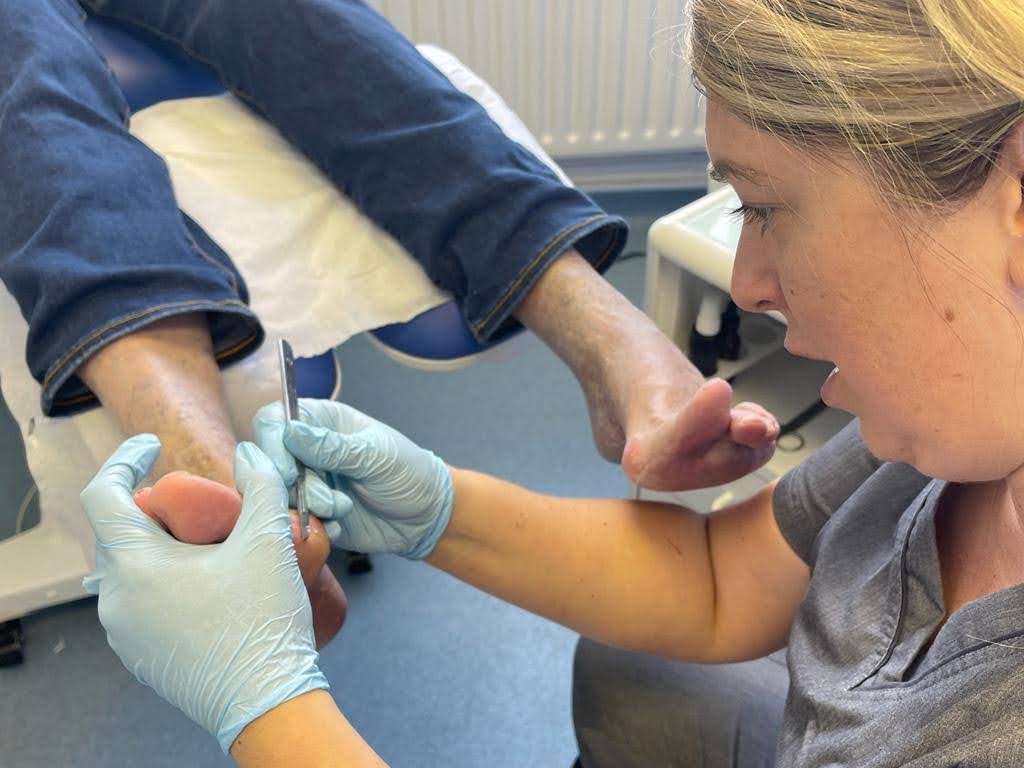 The College of Foot Health is the only UK Foot Health Practitioner course taught exclusively by registered podiatry professionals – HCPC (Health and Care Professions Council), and fully supported by a UK professional body (The Institute of Chiropodists and Podiatrists)
Our long established history of serving this profession sets a bench mark for clinical knowledge and expert practical training. This combined with the experience of our administration team ensures all students of the College of Foot Health are fully supported throughout their training, post training and Foot Health Practitioner careers.
We provide a foot health community that supports your entire journey and ensures the highest standards for the foot health community!
The Level 4 Diploma in Foot Health Care course combines both distance learning – so you can study and your own pace. With practical assessments taught at our state-of-the-art training facilities located in Southport.
The course consists of two parts: Theoretical and Practical
Part One – Theoretical
Consisting of 8 units via distance learning, fully supported by bi-weekly online tutor support meetings, conducted via Zoom. Each unit has an end assessment.
You may be asked to obtain a recommended text book to assist you with your studies and you will be given website addresses where you can research your work and assist in your understanding of the course.
The eight units are as follows:
Unit 1 – Anatomy & Physiology (Whole Body)
Unit 2 – Anatomy & Physiology (Lower Limb in detail)
Unit 3 – Dermatology (Anatomy & Physiology of the Skin and Nails)
Unit 4 – Clinical Conditions
Unit 5 – Pharmaceuticals and Treatment Agents
Unit 6 – Bacteriology and Sterilisation
Unit 7 – Pathology
Unit 8 – Clinical Emergencies and Practice Management
Part Two – Practical training
Practical training with the College of Foot Health is provided exclusively by HCPC registered Chiropodists and Podiatrists at our state-of-the-art Podiatry Clinic in Southport. You will be required to complete 2 weeks of hands-on practical training under the instruction, guidance and full support of the course tutors.
During your practical training you will be shown how to carry out the following:
Routine maintenance of equipment
Record keeping
Clinical assessment
Scalpel techniques
Practice management
How to use and maintain surgical drills
Diagnosis of foot problems
High risk patients
Care of the elderly foot
Referral of patients
Septic conditions
Disorders of the nail
Treatment of verrucae
Padding techniques
Reflective practice
You will be given dates, whilst studying the theoretical element, for practical training to commence as soon as possible after you have successfully completed and passed all of the theoretical units.
You will be fully insured whilst undertaking your practical training at our clinic.
For further details on our course, download our prospectus or apply now.