To ensure our members remain part of our foot health community, we run branches across the UK. The benefit of such branches is to offer members a continued, accessible support structure close to their working location. Members often hold meetings to discuss issues, concerns and to provide general feedback to the elect committee (EC) which is then discussed at our EC meetings. In more recent times during the global pandemic such meetings have been delivered via video conference and via whats app groups to ensure all lines of communication remain open.
Nottingham Branch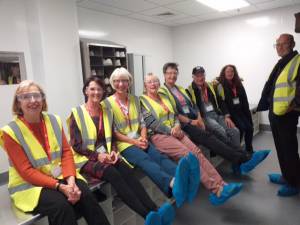 As well as members living in Nottinghamshire, we have members in Derbyshire and Lincolnshire and we have a steady membership of fifty-three practitioners comprising mostly HCPC but numbers of Foot Health Practitioners are catching up.
The Branch tries to address the interests of its membership by arranging and holding pertinent events and has been awarded the Annual Branch Endeavour Award twice.
Our Branch meetings for the last two years have been held and supported by a local Spire Hospital where we have had two evening lectures by Consultant Surgeons but the Spring lecture arranged  with the Consultant Vascular Surgeon was cancelled due to the pandemic which also saw the First Aid in the Workplace training day cancelled.
The Branch Committee has kept in contact with the Secretary but, as yet, we have not arranged a future Branch meeting other than the AGM in January.
The accompanying picture is of a very informative visit last year to the Thornton and Ross Factory in Huddersfield, [Flexitol, Cetraben, Zoflora], wearing some protective clothing and which we never imagined at the time that we would be wearing PPE to treat our patients this year.
We hope we are a friendly and welcoming Branch that addresses our members professional needs as well as being socially inclusive.
Branch Secretary: Valerie Dunsworth, adunsworth@btinternet.com
Birmingham and the Shires Branch
We held our last physical meeting just before the lockdown and so although we had discussed doing it before, this was the prompt we needed to set up a Branch WhatsApp group. It has been a great way to share relevant information, provide support to each other (most of us work solo) and to share the silly stuff as well!
In June we attempted our first virtual meeting via Google Meet. Whilst a few regulars had trouble with the technology, we were delighted to welcome some members who had never been able to attend before. There was little official business to discuss, and no CPD on this occasion, but everyone enjoyed being able to share their experiences and to discuss PPE requirements.
It was decided that virtual meetings had a definite place in the future of the Branch, although we also hoped to be able to all meet in person again as well. Our next meeting is due in October and I am guessing that it will need to be a virtual meeting again this time. The challenge will be to provide some sort of CPD!
Branch Secretary: Kate Harrison, Kathrynharrison87@gmail.com
South Wales and Monmouth Branch
The South Wales Branch have been holding Branch Meetings for the past few years at Insole Court in Cardiff.  This is a lovely venue, an Historic site recently redeveloped.
Some of us meet for a coffee and chat before our meetings start, which at present is on a Sunday from 2-4pm, branch business is always discussed first then a CPD is presented either by a visiting speaker or our own Graham Newport or Michael Franklin.
We have a strong core of members and can have as many as 15 or so attending, which when you consider some members come from Somerset and Gloucester is pretty good.
Since 'Lockdown' we have held informal meetings most Sunday afternoons via Zoom, sometimes only for 40 mins or so but all of us who have been involved agree it has been invaluable.  We also have a WhatsApp group, this has been particularly useful to share information and ideas in this very difficult time, and a great 'support'.  all members of the branch were emailed with information on both the Zoom and WhatsApp groups and some members have reconnected with the branch since joining which has been great.
We are hoping to restart face to face meetings on Sept 13th, then again on Oct 25th.  We shall also be holding Zoom meetings as well.  I think we are a stronger group now and would always welcome new members
Branch Secretary: Esther Danahar, estherdanahar@yahoo.co.uk
Cheshire and North Wales
(Acting secretary of)  Michele Allison, missminou@hotmail.co.uk
Wolverhampton Branch
We have done one zoom meeting which was okay but had a few members who couldn't get onto zoom.
We have arranged our next meeting for 11th October at Penkridge and also via zoom for any members that cannot physically attend
We are also having a talk by David Tollafield via zoom and also a company coming in to talk to us about who they are and what products they sell and they are also bringing free samples for the branch members at the meeting to test.
We will of course be social distancing making sure to stick to the government guidelines
It will be nice to hear from local colleges to find out how they're getting on in this challenging times
We also have a WhatsApp group and keep in touch with members via this as well
Branch Secretary, David Collett, djcollett@hotmail.co.uk
LEICESTER AND NORTHANTS BRANCH
The Leicestershire and Northants branch has a very keen Membership. We meet at regular intervals throughout the year.
Last year we had three very well attended meetings. January is normally the A.G.M. April/May is a get together and chat, we also have our autoclaves serviced. For the September meeting we try to put on something special, last year was our very successful Surgi-Pod, which over 40 members attended.
We will also at some point in the year run a First Aid refresher course. The branch is very keen to welcome new members, be they Chiropodist's, Podiatrist's or Foot Health Practitioners.
If you are new to the area, come along you will be made very welcome.
Branch Secretary: Ian Fenton, fenton303@ntlworld.com
Republic of Ireland Branch
Secretary: Janette Pegley-Reed, jpegleyreed@gmail.com
Sheffield Branch
Secretary: Helen Rawse, hrawse@live.co.uk
Leeds Branch
Secretary: Caroline McCartney, hello@chiropodyandfoothealth.co.uk
London Branch
Secretary: Sarah Bowen, footwoman@gmail.com
Essex
Secretary: Beverley Wright, solespirits@hotmail.com
North West
Secretary: Alison Marsden, alison.marsden@hotmail.com
Northern Ireland
Secretary: Paula McDonnell, paulapod@hotmail.co.uk
Nottingham
Secretary: Valerie Dunsworth, adunsworth@btinternet.com
Scottish
Secretary: John Stott,   jls@stottland.com